Clare Walton was recently at the Alzheimer's Association International Conference (AAIC) in Los Angeles where she joined almost 6000 dementia researchers, clinicians and advocates. She caught up on the latest dementia research, met up with old and new friends from WYLD and represented the network at the annual World Dementia Council meeting.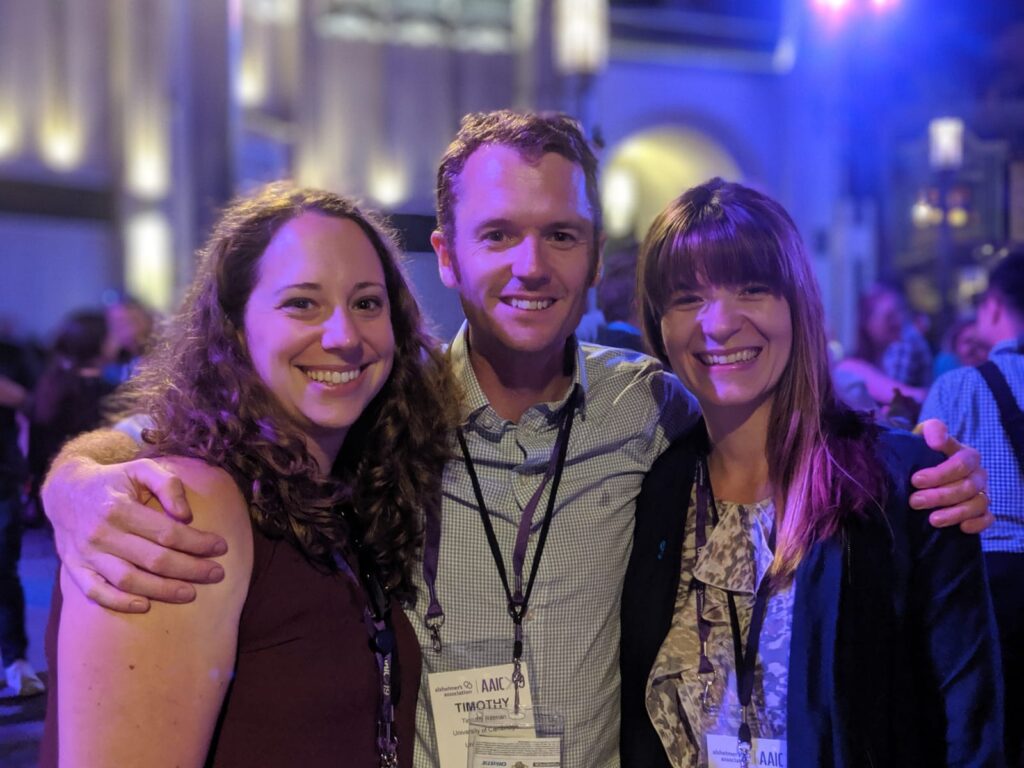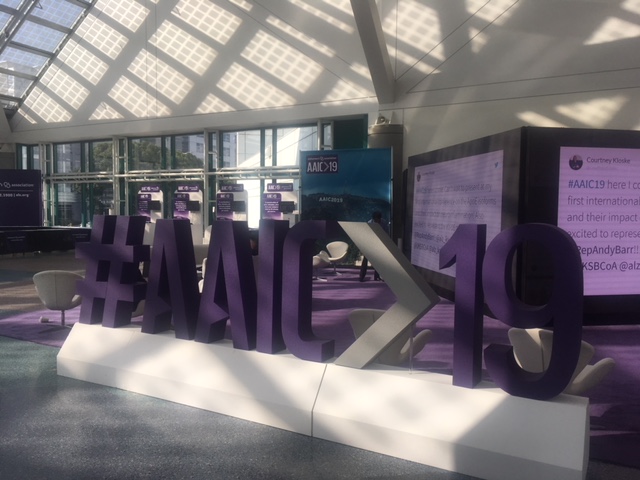 I was recently at the Alzheimer's Association International Conference (AAIC) in Los Angeles where I joined almost 6000 dementia researchers, clinicians and advocates.
From the sweltering afternoon heat of downtown LA to the frosty plenary halls of the convention centre, I caught up on the latest dementia research, met up with old and new friends from WYLD and represented the network at the annual World Dementia Council meeting.
More shots on goal
Harry Johns, CEO of Alzheimer's Association, gave the opening address and set the tone for the entire conference. He acknowledged the widespread disappointment of recent clinical trial failures, but challenged the community to discuss them, learn together and double down on our commitment to work even harder. Recent efforts to diversify our treatment approaches was evident across the programme, with a much more varied set of sessions than previous years that included the role of microglia and astrocytes, blood vessels, microbes and more. Expanding our view on what causes and contributes to dementia gives us more shots on goal for finding effective treatments. Professor Bart De Strooper stressed how important this is in his plenary talk on day 4. He showed that despite several high profile clinical trial failures, the success rate for dementia trials is not too different from the success rate in cancer, but the cancer field has seen 30 times more trials being carried out. We need to be researching the problem on a much larger scale.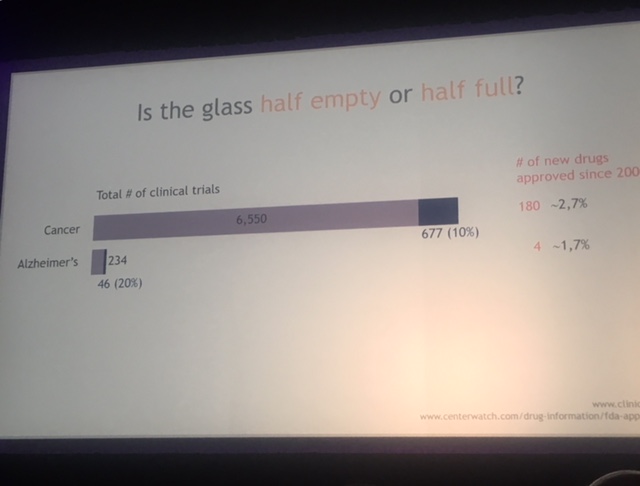 Developing biological markers of disease
Biomarkers are signals in blood, spinal fluid or brain scans, that tell us what underlying changes in the brain are causing dementia symptoms. Strong biomarkers are invaluable for research success, allowing us to predict who will respond to different types of drugs and recruit the right people into future trials. They can also enable a personalised approach to dementia medicine, helping to improve diagnosis in complicated cases and giving doctors the ability to better predict how each person with dementia will progress. The hunt it on to find biomarkers for the very early disease stages, before dementia symptoms appear. We could use these to predict who is most at risk as well as monitor the biological impact of treatments when changes in cognition are too subtle to detect reliably. There were too many sessions on biomarkers to cover them all, but those that caught my eye were: amyloid peptide ratios in blood, neurofilament light chain in cerebral spinal fluid as a marker of dying brain cells, and new ligands that bind to mitochondrial and synaptic proteins in PET brain scans.
Unpicking lifestyle and genetic contributions to dementia risk
We know that both the genes we inherit and the lifestyle choices we make can affect our likelihood of developing dementia. Promising research presented by Exeter Medical School in the UK showed that making healthy lifestyle choices can offset some of the increased risk of dementia that we get from our genes. This research made the news headlines as it found that people with the highest genetic risk could reduce their likelihood of developing dementia by about a third if they followed four healthy behaviours: not smoking, drinking in moderation, eating 4 of 7 healthy foods regularly and getting 150 minutes of moderate exercise each week. (Could we embed the video?)
Connecting with WYLD members
A highlight for the conference for me was reconnecting with friends from within the WYLD network and meeting new, inspiring members for the first time.
There were several members of the network there to present their latest research or connect with others in their advocacy roles:
Noelannah Neubauer (@Noelannah), PhD candidate from University of Alberta, Canada, presented two posters on work to develop guidelines for the police to handle wandering in people with dementia.
Dr Lucia Crivelli (@Bolfita) from FLENI, Argentina, presented a poster on setting up the Argentine FINGER prevention trial.
Dr Tim Rittman (@timrittman) from University of Cambridge, UK, gave a talk on the links between apathy and cognitive decline in people with familial Frontotemporal Dementia.
Dr William Hu (@williamhu43) from Emory University, USA, chaired a session on new nomenclature to describe a type of dementia called LATE (Limbic-Predominant Age-related TDP Encephalopathy) and presented a poster on CSF markers in African Americans with Alzheimer's Disease.
Dr Claire Lancaster (@cll_lancaster) from University of Oxford presented at the technology preconference and four posters on GameChanger, her study to develop a smartphone app to detect the early changes in Alzheimer's disease.
Dr Riona McArdle (@RionaMcArdle) presented her work on gait analysis to distinguish between different types of dementia at the technology preconference and in two posters.
Molly Checksfield from the National Academy of Sciences, USA, was there to advance her project developing a dementia research agenda for the National Institute of Aging.
Dr Heather Snyder (@HeatherAlz) is part of the organising team at Alzheimer's Association and was very busy doing media interviews, chairing panels, hosting receptions, and more.
And me (@cawalton) – I was there to soak up the latest science so I can help my organisation, Alzheimer's society in the UK, communicate it to our supporters, as well as meet up with our funded researchers to discuss how we can use communications to support their projects.
You can hear some of the above WYLD members discussing more of the research presented at AAIC on the Dementia a Researcher podcast – https://www.dementiaresearcher.nihr.ac.uk/podcasts-from-the-aaic-2019/
Representing WYLD at the World Dementia Council
I have recently stepped down from the WYLD steering group after three years but one of my last commitments in the role was to represent us at the14th annual meeting of the World Dementia Council. As an associate member we are invited to attend each meeting to contribute to their developing strategy and find opportunities to support their ongoing work. In the morning we discussed the directions of two current projects and in the afternoon we broke into groups to explore priority areas for projects beyond 2020.
The highlight of the day for me was a discussion of a current project to collect existing evidence on the impact of dementia friendly initiatives around the world and challenge areas where there are evidence gaps. We compared the concept of dementia friendly communities to gay friendly initiatives of previous decades. We concluded that these initiatives are not the end goal in themselves but are essentials transitions on the path towards a fully inclusive society for people with dementia and their caregivers.
Find out more about the current work of the world dementia council – http://www.worlddementiacouncil.org/our-work/global-leadership