The COVID-19 pandemic disproportionately impacts on people living with dementia. Social measures against COVID-19, such as isolation and restricted visiting in care homes and nursing homes, negatively impact on psychosocial and emotional well-being, and can result in increased neuropsychiatric symptoms among people with dementia. Interventions delivered remotely through technology are warranted.
Digital transformation of psychosocial dementia care program
Tokyo Metropolitan government and Tokyo Metropolitan Institute of Medical Science have developed an e-learning course for professional caregivers about how to use a web-based tool to deliver psychosocial interventions to people with dementia. The e-learning course replaced a face-to-face training course to avoid group gathering during the COVID-19 pandemic in 2020.
The program was originally developed in collaboration with the Swedish behavioural and psychological symptoms in dementia (BPSD)registry team. The BPSD-registry iams to enhance psychosocial interventions based on an interdisciplinary team approach tailored to the unmet needs of people with neuropsychiatric symptoms. Adaptations of the BPSD-registry have been developed in Denmark, the Netherlands, and Japan. An adapted BPSD-registry program in Tokyo is called DEMBASE©.
The DEMBASE© comprises (1) a training course, (2) interdisciplinary discussion meetings, (3) a web-based tool for ongoing behavioral assessments, and (4) a debriefing meeting. The training course guides (i) the process of interdisciplinary meetings for the evaluation of neuropsychiatric symptoms, specification of unmet needs using a 23-item checklist, and establishment of an action plan using an interdisciplinary approach; (ii) implementation of the action plan; and (iii) use of a web-based tool. These components are included to promote a plan-do-study-act (PDSA) cycle (Figure 1).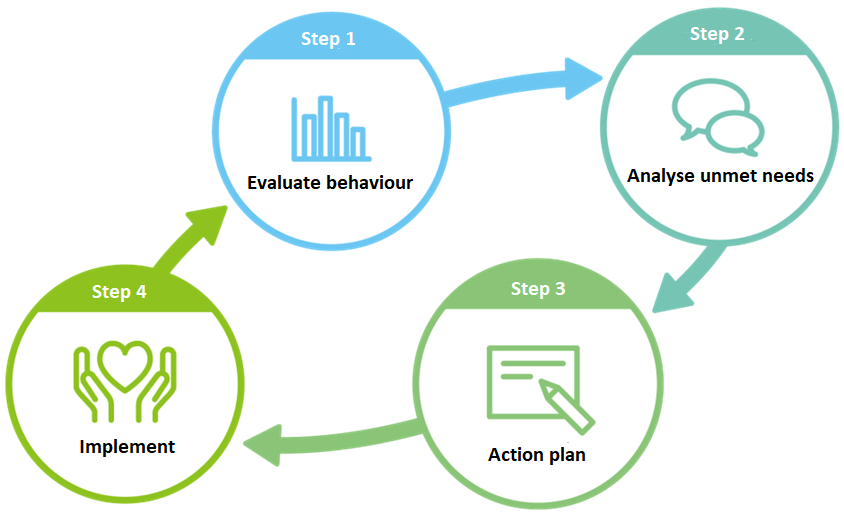 Until 2019, the face-to-face training course was delivered in combination with the web-based tool to professional caregivers who participated in the adapted program. The results of a cluster-randomized controlled study in Tokyo indicated that the adapted program is effective in reducing neuropsychiatric symptoms of people with dementia (Nakanishi et al., Int J Geriatr Psychiatry 2018). Based on the results, Tokyo Metropolitan government introduced the DEMBASE© into daily practice of professional caregivers in 2018.
e-learning course and web-based tool
The e-learning course includes a lecture about the interdisciplinary discussion meeting (Figure 2) and virtual point-by-point operation of the web-based tool (Figure 3).
The web-based tool provides a visualization of longitudinal changes in neuropsychiatric symptoms measured by the Neuropsychiatric Inventory to inform interdisciplinary decision-making (Figure 4). The professionals input the information collected during the discussion meeting using the web-based tool. Participating professionals perform a baseline evaluation and follow-up evaluations to assess neuropsychiatric symptoms for each person with dementia.
The e-learning course was delivered to 298 professional caregivers during the period between July and December 2020. Of the 298, 268 (89.9%) completed the course. On average, professionals spent a total of 330.8 minutes (standard deviation [SD]=261.5) to complete the course. As there were 252 professionals in FY2019 who completed a one-day face-to-face training course, the total number of participants in the e-learning course appeared to meet a satisfactory level compared to the face-to-face training course.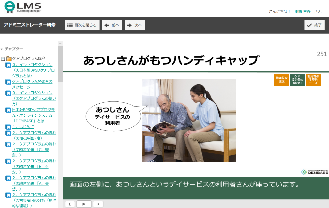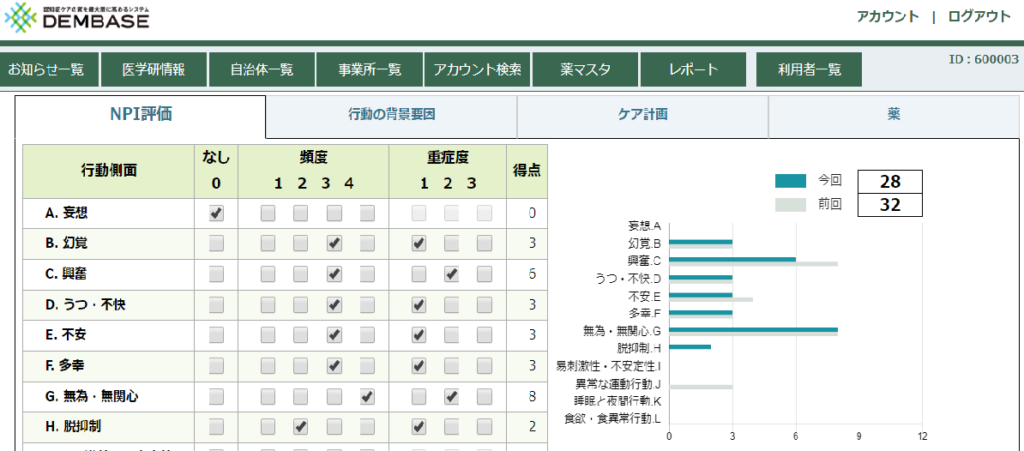 Debriefing zoom meeting
Debriefing meetings were also delivered to professionals using Zoom and were divided into two parts. The first 90-minute debriefing meeting was within four weeks after the e-learning course, aiming to review what they learned during the course, to encourage utilization of the program, and to set a task for completion by the next debriefing meeting. The next 90-minute debriefing meeting was set after a further four weeks to share the experiences of the program.
The replacement of face-to-face training with the e-learning provided an opportunity to take part in the program to professionals who may not have participated in the program if the e-learning were unavailable. However, several barriers to the program implementation were noted by participants in the debriefing meetings.
Barriers to the program implementation
The e-learning course may have lacked motivational triggers to implementation; the face-to-face training course involved role play of the interdisciplinary discussion meeting that may have yielded human interactions among participating professionals and between instructors and participants. In addition, as preventive measures against COVID-19 are added to their daily practice, professionals had less time for the program implementation, including the interdisciplinary discussion meetings. Although we instructed the participants to hold an interdisciplinary discussion meeting via Zoom, they faced IT infrastructure instability in their workplace and showed reluctance to change established practices and routines.
The demand for the e-learning platform is emerging among essential care workers during the COVID-19 pandemic. Further strategies should be developed to provide motivational triggers to implementation and technical support to care professionals who work with people with dementia.
Miharu Nakanishi, Chief Researcher, Tokyo Metropolitan Institute of Medical Science
Ms. Miharu Nakanishi, Ph.D., is a registered nurse and Chief Researcher of Mental Health Unit, Research Centre for Social Science & Medicine in the Tokyo Metropolitan Institute of Medical Science, Japan. She has implemented studies on health services research, especially for dementia care.
She has developed a psychosocial dementia care program (DEMBASE©) for neuropsychiatric symptoms of home-dwelling persons with dementia in collaboration with a Swedish BPSD-registry team. She manages dissemination and implementation of the adapted program in Tokyo.