There is a new website that's been made just for you. No cute cats, no celeb gossip…it's designed for Early Career Researchers in dementia. The Dementia Research website (click here) is designed by the National Institute for Health Research in the UK, supported by the the UK Alzheimer's Society and Alzheimer's Research UK, with the idea of providing for and creating a network of Early Career Researchers. Although the site is hosted and designed in the UK, there is no restriction on who can register and the majority of the content is applicable wherever you are in the world.
At this point I should post a disclaimer. I was involved in reviewing the website during the design process on behalf of WYLD and you will find me in some of the podcasts and other content. However, I think this website deserves a wide audience as it has a level of professionalism and support behind it which few other resources in this field are able to match.
So, let's start by having a look at some of the best features first. The podcasts have been the most widely popular feature of the website. These are released every two weeks on a wide variety of topics from research skills (eg getting funding and grant writing) to lifestyle (eg managing and fostering good relations with PhD supervisors) and specific research topics (eg discussing the MARQUE study – managing agitation in dementia). There are a range of people involved in the podcasts, many Early Career Researchers, but where appropriate more senior people. In writing this article I came across the "Getting funding and grant writing" podcast which has been particularly helpful as I am currently putting together a grant proposal. This podcast included two senior figures in David Llewellyn and Simon Mead, accompanied by an Early Career Researcher in Adeel Razi.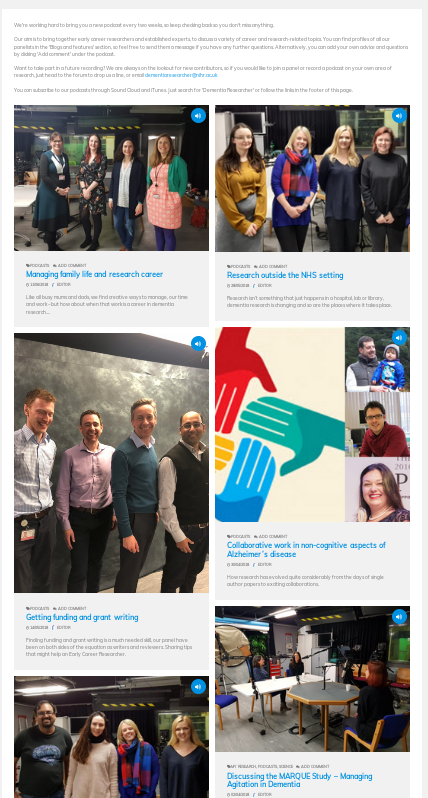 If you ever struggle for motivation, I can highly recommend the Why it matters section under the Careers tab. There are inspirational words from leading figures in dementia research in the UK alongside stats and figures outlining the size of the challenge we face. These are accompanied by a selection of personal accounts of living with dementia, a reminder that we work on a condition with a very human face.
To access some areas of the site you will need to register, which is straight forward and free. In particular, the Find section is only accessible to members where you will find UK based jobs and funding opportunities. This page replaces earlier list elsewhere and the involvement of the Alzheimer's Society, Alzheimer's Research UK and NIHR makes this the most comprehensive list of academic opportunities for dementia in the UK. Jobs are searchable by site as well as description and type. Funding opportunities can be filtered by funder and research type. There are currently 26 grants listed targeted to Early Career Researchers.
One slightly hidden gem on the site is the Essential tools section under the Support & resources tab. This is a comprehensive list of links to resources that might be useful to researchers at any level. With my current grant application in mind, I'll be poring over the section on grant writing, but there are sections on delivering studies, datasets, social media and communications, study recruitment, and health and wellbeing among many others.
Two other useful sections under Support and resources are the Ask an expert and the Blogs and features. Ask an expert allows you to directly interact with leaders in their field. These have been carefully selected to cover a wide range of topics and experiences including basic science, public health, clinical medicine and non-research areas. The Blogs and features section is frequently updated; there have been 9 new articles in the last week alone. Some is content such as podcast interviews, others are links to external sites.
The Community section of the site hasn't quite taken off yet, although this may develop given time. This section allows people to set up groups based on organisations or institutions, and to communicate with other people in the field via the website. In addition, there are a set of forums organised in to themes. Again, these haven't really taken off yet, but time will tell how useful people will find them.
Accompanying the website a very active and popular twitter feed @dem_researcher with over 1000 followers. If you would like to track key updates to the website and suggest content and podcast topics, twitter is a good place to do this.
Maybe I'm biased, but I would give this new webiste five stars and it is a must read for any early career researcher, wherever you are in the world.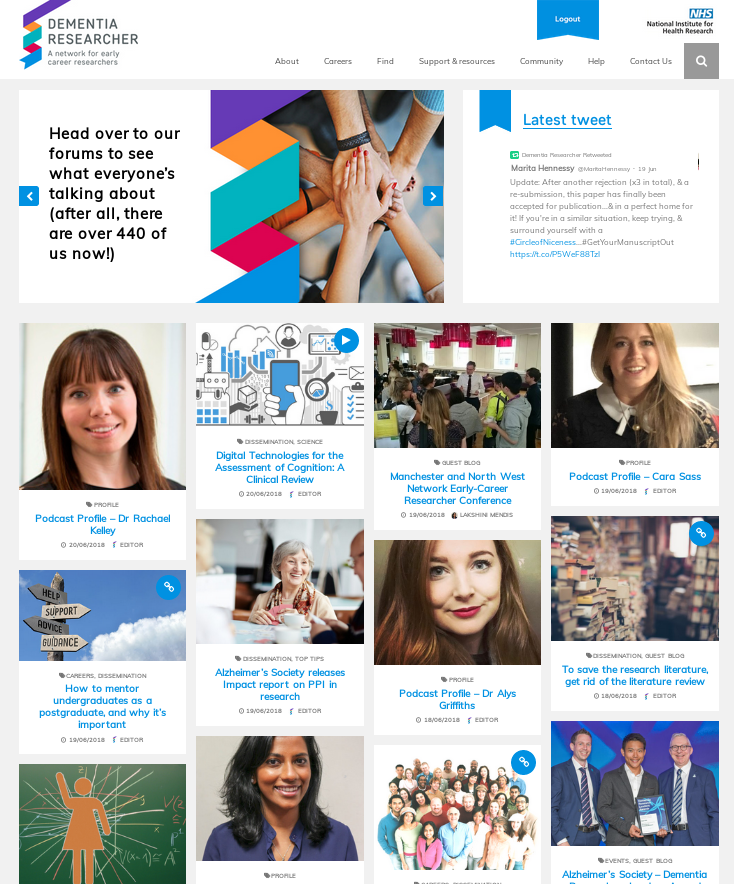 Timothy Rittman
Clinical Research Associate, University of Cambridge
Advisor to the WYLD Steering Committee