The International Association of Gerontology and Geriatrics (IAGG, San Francisco, July 23rd-26th 2017) is the world congress of gerontology and geriatrics. Over 6,000 people attended this event, all sharing in the latest science, research, training, technology, and policy developments. The theme for this year was 'Global Aging and Health: Bridging Science, Policy, and Practice'. As with all conference of this calibre, there were so many events occurring at once that this blog post is only able to represent a small selection of all the presentations, posters and workshops that took place.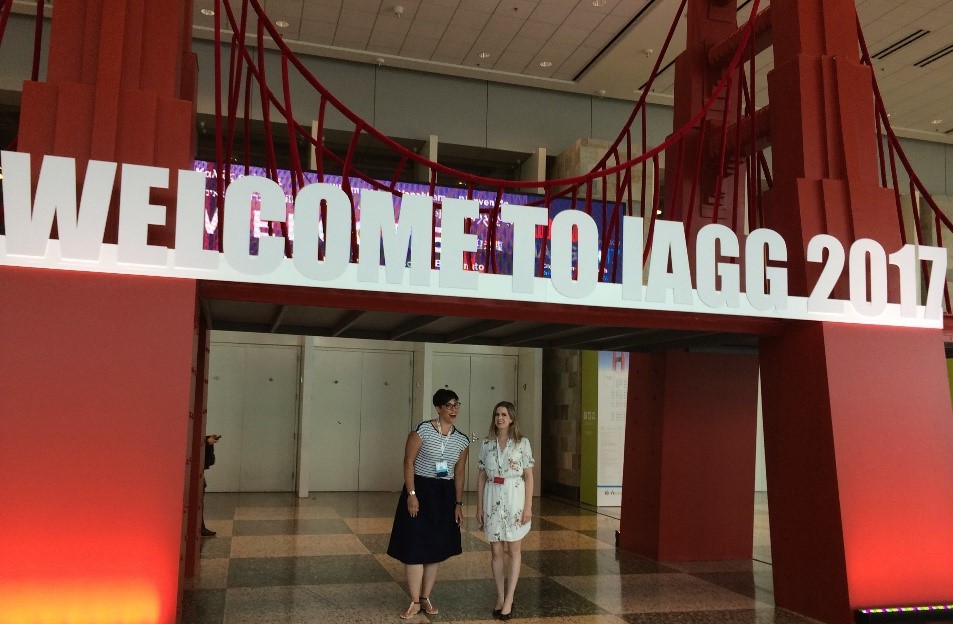 The first day in California included many IAGG pre-conference workshops. One of the more popular workshops was on self-care technologies for the aging population. The presentations and panel discussions at this event covered the latest in technology solutions designed for older adults to maintain their health and independence. Although the panel was interesting the question period was perhaps where the most engaging discussions took place. One audience member asked the panellists how many older adults were hired as staff during the development of these new technologies. An important reminder to all of us – especially those of us in WYLD – to work to include the participation of those with dementia during the research process. Another woman asked a question regarding technologies and African countries- again, an important reminder for us at WYLD to include the voices and participation of those who are in Low and Middle-Income countries in our global discussions.
It was exciting to see many WYLD members presenting their research, and I will highlight just a few. Monica Cations from Australia presented her work about barriers to service use in Young onset dementia and made recommendations for how services can be more accessible for younger people. Sarah Wu from Canada presented her research on interventions for improving mealtimes in long-term care facilities. WYLD presented a poster on one of the collaborative project that we have worked on. In brief, this project this included a scoping review of global dementia friendly symbols along with a discussion surrounding the agreed upon importance of an internationally recognized dementia friendly symbol. More information on this project can be found here.
During the final day an impressive full-day workshop on technology and aging took place.  The mission of this day was to explore new technologies to support the independence and social inclusion of older adults.  The take home message from the final panel discussion was the importance of empowering older adults, both with and without cognitive impairment, to engage with technology and to listen to their perspectives during the creation and implementation of these technologies.  The day ended with a 'pitch competition' which brought together academics and tech start-ups. At this event select entrepreneurs had the opportunity to pitch their investment ready companies to a panel of expert judges.
To conclude, a huge thank you to the Canadian Association of Gerontology who supported WYLD's travel and attendance of IAGG 2017. Please keep an eye out for WYLD activities at the upcoming Alzheimer's Europe Conference in Berlin from 2 to 4 October 2017. And as for you- if you are an engaged, passionate dementia research who is under the age of 40 please feel free to become a member of our network! Follow us on twitter @wyldementia and sign up through the website to get our newsletter. We have an active slack group, and there are many opportunities to network online and at various meetings throughout the world. We are all emerging professionals in the dementia space and would love to meet you!
-Laura Booi, WYLD Steering Group Member