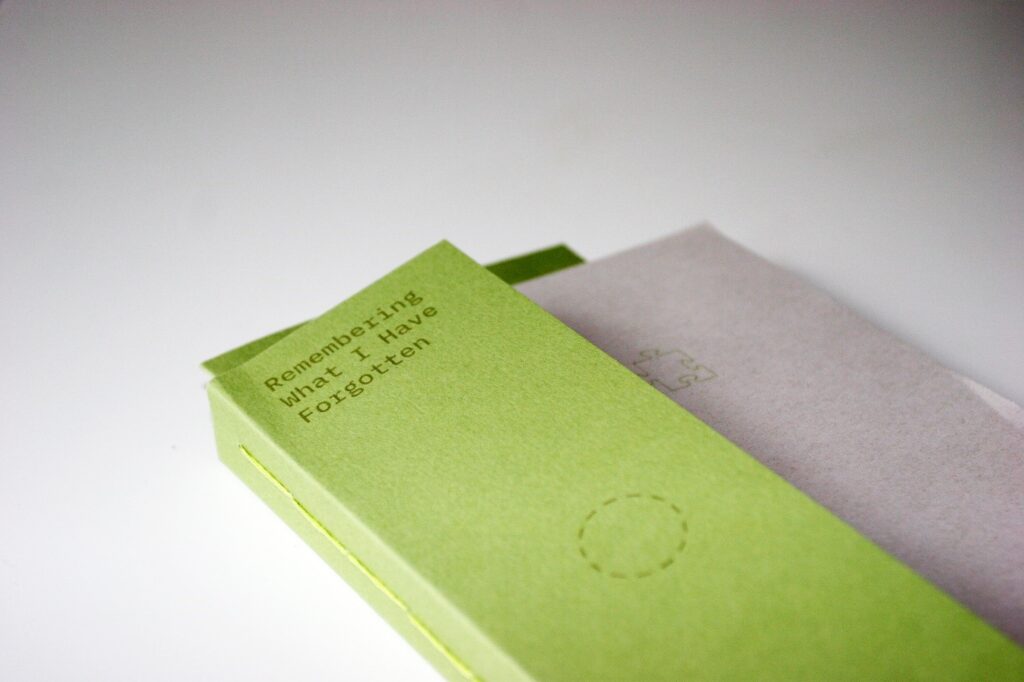 'I am anxious that I will make mistakes.'
This is just one of the many diary entries in 'Remembering What I Have Forgotten': a diary written from the perspective of someone experiencing memory loss. This diary however, has not been written by a person – but by a software application known as a chatbot that has been trained on anonymous interviews with healthcare professionals and carers of people living with dementia.
'Remembering What I Have Forgotten' is the result of a residency that I undertook with Dr Francesca Farina at the Trinity College Institute of Neuroscience in 2019. During my residency, I aimed to create work that was a crossover between art and science. In the past, a lot of my work had been responses and reactions to information recorded in real-time. I wanted to continue with this response to information, but this time, using data from research.
As a result, I was given data about the brain, including electroencephalography (EEG) recordings, talked to other neuroscientists about their projects and listened to recordings of interviews with older people, carers and healthcare professionals. These interviews really stuck out to me.
Listening to someone's voice telling you how it feels to care for someone experiencing memory loss, and detailing the impact this has on their daily life was profoundly impactful. Hearing about the fears that arise and how people adapt to live with a diagnosis gave me a deeper understanding of dementia than I had ever known. Carers and clinicians alike provided these interviews, offering me great insight into the different perspectives of memory loss.
At the time, I was interested in the rise of wearable technology to track everything about our lives, from the steps we take, to the amount of deep sleep we get and even how fast our heart beats. Wearable technology has the ability to predict future health events and concerns, but I am also very interested in technology's ability to know more about us than we know about ourselves. For me, dementia has always been something unpredictable, with every person experiencing something different. I aimed to create something that could 'predict' what it is like to actually experience dementia. I wanted to see if I could truly capture the feelings and perspective of someone experiencing memory loss, and spread awareness to others about what it is like to live with dementia.
To achieve this, I chose to make a chatbot, which is a piece of software that can make conversation and answer questions based on its 'knowledge' from the data it has been given. I trained the chatbot on the data provided from the interviews with carers and healthcare professionals, allowing the chatbot to constantly learn, form opinions, and converse with me. This allowed the chatbot to create a personal experience based on the interviewees' insights, replicating how people with dementia are constantly experiencing and learning new aspects of their condition; and just as the carers, clinicians, neuroscientists and public do too.
After transcribing the anonymous interviews, I gave the chatbot snippets of the data I took from listening to the interviews. I wasn't sure what format the chatbot could be interacted with at first, but I knew that keeping a diary was something a lot of people with dementia do to help them manage their condition. From this, I decided to make a book in the format of a diary, to partially replicate the experience of living with dementia. To develop the diary, I asked the chatbot "how are you feeling today?" 365 times, recording each response as another day in the diary. From my research, I learned that people with dementia also frequently keep bookmarks in their diaries to help them remember things, such as what they have to do and information they have learned. I felt this was important to include and printed some of these diary entries on bookmarks throughout.
The interviews that I fed the chatbot allowed it to decide what it deemed the most appropriate response to the question "how are you feeling today?" As is the nature of the chatbot, it would repeat itself as it was learning. The sentences it repeated became more complex or clearer over time. Moving from sentences such as "I feel more withdrawn" to "I feel more withdrawn and am not going out or connecting". Interestingly, the most popular output of the chatbot was "I am repetitive, I am being told by people that I" with the chatbot never fully completing the sentence. While I don't think the chatbot personally knew it was repeating itself or why, I found it very interesting that repetition was something the chatbot focused on time and time again. The chatbot was also very productive and proactive. It provided a variety of emotive responses, while also explaining what it was going to do to help and cope with living with dementia such as "I write things down and will do those things to try". This is reminiscent of the interviews I listened to, where lots of people spoke about methods of coping. They viewed dementia as a different way of living, rather than an illness that ruined their life, and I really wanted to spread awareness about this.
I hope that 'Remembering What I Have Forgotten' will show a realistic and more personal insight into what it is like to experience dementia and memory loss. I hope to show younger generations and members of the art world that dementia is something that should be thought about and dealt with more in artistic practices. I believe the book highlights the importance of speaking to people who experience dementia hands-on and recognising the endless work people put i to learning about dementia, to improve the lives of the people living with it.
'Remembering What I Have Forgotten' is on sale at The Dublin Art Book Fair in Temple Bar Gallery until the 3rd of December. All proceeds from book sales will be donated to The Alzheimer Society Ireland. Anyone who would like to can also ask the chatbot their own questions on my website www.aoibheannbrady.com.
---
---