At WYLD we are constantly excited by the impact young people have on raising awareness about dementia in their society. Here we showcase a very new foundation headed up by 19 year-old Riana Patterson on the island of Dominica in the Carribean.
The Dominica Dementia Foundation was launched on the 2nd of September, 2016. I started work to found the Dominica Dementia Foundation when I was 18. The motivation for this came from my grandfather who passed away in 2013 with Dementia and so I set out to see that Dementia is a health priority in Dominica.
The foundation was launched at the University of the West Indies in Dominica and aims to:
raise awareness of Dementia
raise funds for families affected
provide emotional support to caregivers, those who suffer from Dementia and their families
facilitate research towards Dementia.
September was world Alzheimer's month and so the Dominica Dementia Foundation was busy with several activities, including flying to Miami for a consensus meeting.
Recently we volunteered with Crime Stoppers Dominica at "Creole in the Park" in the week of 24th-29th of October, 2016 to speak about Elder abuse and also to promote the foundation.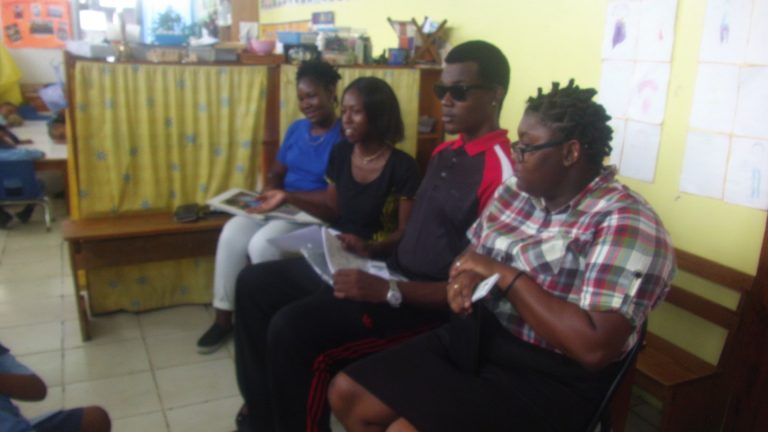 Crime Stoppers Dominica was founded in 1976, although internationally has more than 1,200 programmes in over 25 countries with a mandate to "Work Together to solve and Prevent Crime". The Dominica program received its first tip-off in May 2013 and since then over 1,000 calls have been received leading to several arrests. In Dominica and worldwide, the identity of a caller remains anonymous.
We collaborated with Crime Stoppers since Elder abuse is a crime and needs to be rooted out more. As persons with Dementia are vulnerable adults, easy targets for thieves, and are unable to care for themselves and perform various daily task, they tend to get mistreated by "unprofessional" caregivers and even their own families unintentionally, and most of this is due to lack of understanding, training and knowledge about persons who have Dementia.
We worked with Crime Stoppers at Creole in the Park 2016, which provided an ideal avenue to facilitate Crime stopper's Dominica public education drive by way of a promotional exhibit as well as the Dominica Dementia Foundation. At the event I and members of the Dominica Dementia Foundation spoke to local people and foreign visitors about the foundation and handed out brochures. We received very positive feedback about our work.
Creole in the park is where local artists, cultural groups get to showcase their talent for a period of four days at the Roseau Botanical Garden. During this period you can find various organizations showcasing their work in Dominica. Individuals far and wide come into Dominica for the creole activities as we celebrate 38 years of Independence on November 3rd, 2016. This season is where Dominica particularly lights up with culture and color.
You need to have a lot of patience dealing with those who suffer from Dementia and as we are in the month of November, National caregiver's month, we would like to commend caregivers nationwide for their efforts in ensuring these people are treated with the utmost dignity and respect.
The board of directors comprise of Rianna Patterson (President), Dr. Davendra Sharma (Vice President) and Ms. Jacqueline Douglas. We also have quite a number of members, volunteers and trustees. The foundation to open to individuals aged 16-60 years.
We have various workshop and activities coming up shortly. To keep updated please follow us on social media. For more information/to donate you can find us on facebook "Dominica Dementia Foundation" or email us at: dominicadementiafoundation@gmail.com.
Rianna Patterson
Founder and President of the Dominica Dementia Foundation